Mrs. Joos recently received the Crystal Apple Award presented by Mario Pia from Horace Mann.  Here is why she was nominated:
"Mrs. Joos listens to ideas from her fellow educators and is always ready to work together to find a better way to help students learn. Sometimes during meetings, we can fall into the trap of going through certain routine motions and we don't step back and ask the tough questions about whether our actions are truly going to improve the student's learning. Mrs. Joos helps teacher groups do this by listening to what we are saying- and the direction we are heading - and then she helps us ask how this direction
 will specifically impact students learning? How do we know it will help students who don't get it? Then she tries to think of examples from her class of how our current approach has worked or not worked so we have something concrete to discuss. 
Mrs. Joos helps her fellow educators by making sure our time and effort actually achieve an improvement.  Mrs. Joos is a wonderful mentor who goes out of her way to help others. She will drop what she is doing to assist in any way she can. She loves to collaborate and share her ideas/supplies to help better the learning environment for all students in every classroom. She cares deeply about each and every student and their success."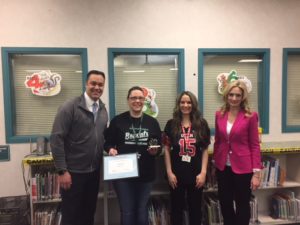 Left to right: Mario Pia (Horace Mann), Mrs. Joos, Ms. Anderson (JEA Rep) & Candie Checketts (Assistant Principal)