AmazonSmile
AmazonSmile is a website operated by Amazon that lets customers enjoy the same wide selection of products, low prices, and convenient shopping features as on Amazon.com. The difference is that when customers shop at AmazonSmile (smile.amazon.com), the AmazonSmile Foundation donates 0.5% of the price of eligible purchases to the charitable organization selected by customers. To support BCE click on this link to sign up: https://smile.amazon.com/ch/20-5216034 and add "PTA Utah Congress Butterfield Canyon PTA" as your selected charitable organization.
Smiths Earn and Learn
By simply printing this form and turning it into Smith's to connect with your rewards card - you can really help out our school by giving us a kick-back from purchases when you use your rewards  that you are already and will naturally make in the future.  Last year we received a check for $3,096.49.  Please fill out this form on an annual basis so that our school can receive this fantastic benefit and your family can continue to benefit from their delicious and nutritious products/produce!
For the 2019-20 school year, Dansie Orthodontics will once again donate a folder for each student.  Since our school is moving to a "No Homework Policy," this will be a Take Home Folder to help parents and teachers communicate about student learning.
In 2016-17, 2017-18 and 2018-19 school years, Dansie Orthodontics donated a homework folder for each student. They designed and printed these folders to facilitate communication between home and school.  We are grateful for their continued support of our school.
In 2015-16 Dansie Orthodontics donated over $1000 to our school so we could purchase fun shirts for our entire staff to that promotes our new mission statement and motto.  Being new to the area they wanted to find a way to help out the local schools. When we mentioned this idea we had, but lacked a funding source, they quickly stepped in and offered to help. They are so kind and friendly - go see them, they'll hook you up with a nice looking grill. We appreciate their support and partnership! Keep in mind that we have a team sports theme for this school year - here's what the shirts look like.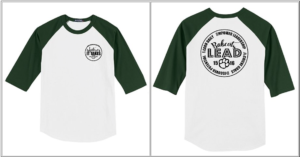 Mountain America Credit Union
They donated $5,000 in 2012 to assist our school in implementing The Leader in Me program at Butterfield Canyon.  That program helps to teach leadership principles to students, primarily from teaching them in a direct and ubiquitous manner the 7 Habits of Highly Effective People.  Many thanks to Mt. America's contribution that has helped to get the program off the ground at our school!
Dawson Pediatric Dentist and Orthodontics
They donate a free pair of braces to our school that can be purchased at a significant discount at our silent auction fundraiser. We appreciate this partnership.
Chick-fil-A
Chick fil-A donates breakfast for our monthly Leadership Celebration.  Students are nominated for demonstrating leadership in the school.  They are treated to a yummy Chick-Fil-A breakfast sandwich, fruit, and a drink and interact with a motivational speaker.  Thanks Chick-fil-A!
The Jordan Education Foundation (JEF) is a non-profit organization dedicated to support your children, their education and our collective future. JEF connects passions with possibilities and creates lasting legacies. The foundation's mission is to generate and guide philanthropic resources to promote excellence in education in Jordan School District. Foundation board members and friends encourage private support from individuals, businesses, corporations, foundations and events. The Foundation welcomes planned giving and deferred donations through Charitable Trusts. Jordan Education Foundation is unique because:
ALL donations (100%) go directly to promote excellence in education and to benefit teachers and students 
No administrative costs are taken from private donations 
Donors can designate their contribution to a specified need, school, classroom or program
They are able to fund individual teacher grants in our schools to provide them with necessary funds to purchase instructional resources and technologies for our students here at Butterfield Canyon. Thank you to the Jordan Education Foundation!